Get all the latest news on coronavirus and more delivered daily to your inbox.  Sign up here.  
Fyre Festival founder Billy McFarland is reportedly begging a judge to release him from prison early because he's at a higher risk of catching the novel coronavirus due to pre-existing health conditions.
McFarland, 28, is currently serving a six-year prison sentence after pleading guilty to wire fraud in 2018. According to a new court filing first obtained by The Wrap, the former concert promoter's lawyers highlighted past ailments that make him a candidate for early release from the facility.
"Mr. McFarland has informed us that he has pre-existing conditions that make contracting Covid-19 easier, and which increase his potential to suffer severe health issues and death if he does so, including being diagnosed with asthma as a teenager," his lawyers claimed in court documents accessed by the outlet.
FYRE FESTIVAL FOUNDER BILLY MACFARLAND WORKING ON PRISON MEMOIR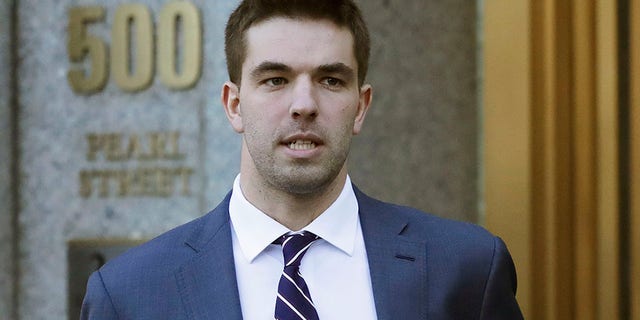 In this March 6, 2018 file photo, Billy McFarland, the promoter of the failed Fyre Festival in the Bahamas, leaves federal court after pleading guilty to wire fraud charges in New York. 
(AP )
McFarland's lawyers made the request to New York Judge Naomi Reice Buchwald. On McFarland's behalf, they claimed the embattled promoter is "not a risk to the community nor a threat to public safety" and requested for home confinement instead.
The Fyre Festival promoter is housed at the Elkton Correctional Institute in Ohio, where at least 24 inmates and 14 members of the staff have tested positive for COVID-19, including two wardens who have been hospitalized, the report said.
The filing also notes that McFarland was diagnosed "on the 'extreme' scale" for allergies, involving issues "related to breathing and his cardiovascular system."
McFarland also has suffered from heart issues throughout his 20's, the lawyers noted.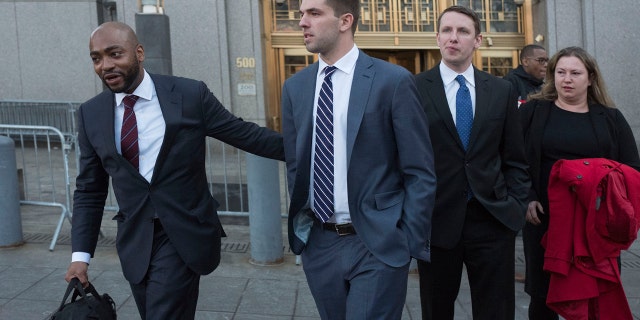 Billy McFarland, center, accompanied by his attorney Randall Jackson, left, leaves federal court after pleading guilty to wire fraud charges.
(AP)
According to the report, McFarland has already been considered as a candidate for home confinement beginning next year.
The Fyre Festival will go down in history as perhaps the worst-run show in history. The famously failed music bash in the Bahamas went viral after Netflix and Hulu released documentaries about the saga.
McFarland was accused of defrauding investors of $26 million and over $100,000 in a fraudulent ticket-selling scheme for the event, which was advertised as a luxurious concert getaway experience thanks to promotional materials filled with celebrities and supermodels jumping on and off of yachts.
CLICK HERE TO GET THE FOX NEWS APP
The promised luxuries never came, however. Hundreds of fans who spent thousands on tickets and travel were left stranded for days.
McFarland was initially charged in 2017 and the "serial frauder" was handed a six-year prison sentence the following year.
The Associated Press contributed to this report.