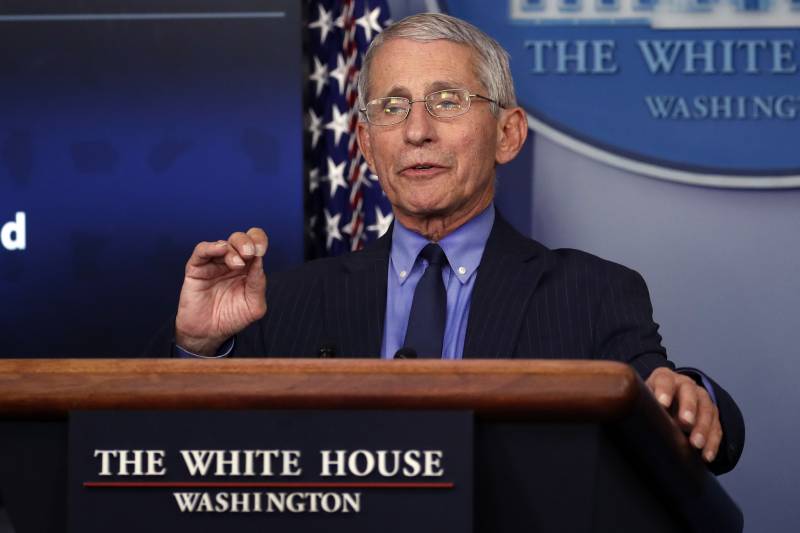 Alex Brandon/Associated Press
Dr. Anthony Fauci, the director of the National Institute of Allergy and Infectious Diseases, said Tuesday that it isn't yet the right time for sports to return to action in the United States amid the coronavirus pandemic.
In an interview with James Wagner and Ken Belson of the New York Times, Fauci said: "I would love to be able to have all sports back. But as a health official and a physician and a scientist, I have to say, right now, when you look at the country, we're not ready for that yet."
All major American sports leagues have been shut down in terms of athletic competition since March because of COVID-19. The NBA, NHL, MLS, NASCAR, PGA Tour, ATP and WTA all suspended their seasons, while MLB has yet to start its 2020 regular season.
Fauci also cautioned against moving too quickly: "What we need to do is get it, as a country and as individual locations, under control. That sometimes takes longer than you would like, and if we let our desire to prematurely get back to normal, we can only get ourselves right back in the same hole we were in a few weeks ago."
According to CNN, there have been over 1 million confirmed cases of coronavirus in the United States and over 58,000 deaths.
Some states that haven't been hit as hard by COVID-19 are working toward ending stay-at-home orders and reopening businesses, but that won't be immediately possible in states with high coronavirus numbers, such as New York and California.
Holding sporting events and other large gatherings with thousands of fans in attendance would create a high-risk situation without a COVID-19 vaccine in place.
Sports leagues could look to mitigate the risk by holding games without fans in attendance. Fauci said it is "possible" at some point that leagues could gradually transition from no fans to a full allotment of fans in attendance, but he added that it's "no guarantee."
When sports do eventually resume, Fauci stressed the importance of players' getting tested regularly for the coronavirus. He also offered some level of support for the idea of quarantining players in hotels, testing them and playing games in front of no fans as a starting option.
While Fauci is open to ideas that would result in sports' resuming, he also believes some leagues may need to not hold a season until the risk is significantly lower:
"I don't want to make this conversation sound like it's going to be an easy thing. We may not be able to pull this off. We're going to have to see: Is it doable? Do we have the capability of doing it safely? Because safety, for the players and for the fans, trumps everything. If you can't guarantee safety, then unfortunately you're going to have to bite the bullet and say, 'We may have to go without this sport for this season.'"
As the calendar heads toward May, both the NBA and NHL are in danger of not being able to finish their 2019-20 seasons. MLB could be in danger, although it still has the benefit of time in terms of scheduling a shortened season.
While those leagues have no concrete plans in place yet, NASCAR and the PGA Tour do.
NASCAR announced that it plans to run races without fans at Darlington and Charlotte beginning in May. Meanwhile, the PGA Tour released a revised schedule in which golfers return to action in mid-June.
---
Bleacher Report's David Gardner interviews athletes and other sports figures for the podcast How to Survive Without Sports.