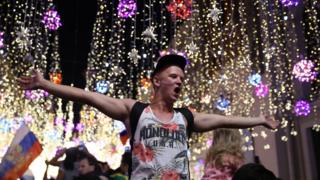 The historic World Cup victory over Spain sent much of Moscow into a frenzy of celebration and produced a rare moment of national unity.
But some Russians are still not convinced they can support their national team.
Many opposition-minded Russians feel the Kremlin is using the World Cup to bolster its prestige and deflect criticism of its human rights record and assertive foreign policy.
In the view of a minority, backing the national squad is tantamount to helping this agenda.
"This is politics, just politics, nothing else. Only [Putin] benefits from this football madness," opposition activist Alexander Osovtsov wrote on Facebook, repeating allegations that President Vladimir Putin "bought" the hosting rights to the World Cup through corruption.
He added that those now chanting "Russia! Russia!" are akin to those who did the same when Russia annexed Crimea in 2014, or invaded Georgia in 2008.
A similar view was expressed by Arkady Babchenko – the stridently anti-Kremlin former war correspondent who recently stunned the global media by announcing that he had faked his own death in Ukraine to help uncover a Kremlin-backed plot against his life.
On Facebook, he accused those oppositionists who had cheered Russia's victory of "embracing the imperialist scum, under the same flag, united by joy at a shared victory".
Some even refused to believe Russia could beat Spain in a fair game. "Russia in the quarter-finals is a cause not for celebration, but for investigation," commented the prominent anonymous Twitter account Ugolok Tsinika ("Cynic's Corner").
'Loving your country is normal'
But such scepticism is not in fact shared by most oppositionist and liberal Russians, including prominent anti-corruption campaigner and anti-Kremlin protest leader Alexei Navalny.
In a series of excited tweets, he voiced delight at Russia's defeat of Spain ("YESSSSS!") and jokingly called demonstrations calling for Russia goalkeeper Igor Akinfeev – who saved two penalties against Spain – to be given the Hero of Russia medal.
Mr Navalny's ally, Leonid Volkov, dismissed "conspiracy theorists who so fear the almighty Putin that they believe he can buy what cannot be bought".
Ardent opposition supporter Alexander Ryklin agreed, writing that anyone in top-level football trying to fix such a match would be taking a "terrible risk".
Another prominent opposition activist, Ilya Yashin, voiced anger at what he called the "online opinion-formers" talking of celebrating fans as "Russians gone feral from patriotism".
"Supporting your team at the World Cup is normal," he wrote. "It doesn't make you an accomplice in crimes that high-placed officials commit. Loving your country is normal. It doesn't oblige you to love the government and the president as well."
One of Russia's most prominent bloggers, Ilya Varlamov, called on people not to "confuse sports and politics, Russia and Putinism, the country and the state".
'Insult'
But some accuse the Kremlin itself of mixing sport and politics, citing remarks by Mr Putin's spokesman, Dmitry Peskov comparing Russian fans' celebrations to those after the Soviet victory of Nazi Germany in World War Two.
Mr Peskov stressed that he was not comparing victory in war to victory in sport, saying the latter "brings people closer, it doesn't divide them".
But this was not enough for some. "You cannot imagine a greater insult" to the memory of those who fell in the war, wrote journalist Arkady Dubnov.
Russian state media's World Cup coverage is a continuous loop of foreign fans praising the host country, along with hints that Western media have been caught out in unwarranted scare-mongering about Russia.
Government-controlled Channel One reported that Colombia supporters will outnumber England fans by two-to-one at their teams' last-16 match at Moscow's Luzhniki Stadium.
It also quoted a tweet by England supporter Matt Maybury saying that the British media should be "ashamed of themselves for their clear propaganda".
This has been widely retweeted in Russia, including by Twitter accounts that bear the hallmarks of being bots, and has been highlighted in a report by Kremlin-controlled international media outlet Sputnik.
But some commentators believe the good-natured and celebratory nature of the World Cup could actually backfire on the Kremlin.
They argue that the contact with happy foreign fans undermines the feeling of being besieged by an innately hostile West that it is seen has having cultivated in past years.
"It turns out we have no enemies abroad," wrote commentator Igor Nikolayev on the website of independent radio Ekho Moskvy. "The World Cup is destroying one of the most important foundations of the Russian government."