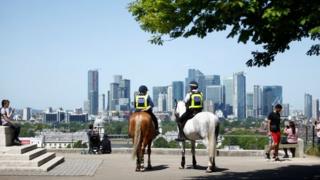 Police in England and Wales have issued nearly 17,000 fines for alleged breaches of coronavirus lockdown rules.
Most fines were issued to young men aged 18 to 24, the National Police Chiefs' Council (NPCC) said.
The data, from between 12 and 25 May, shows a significant reduction in the number of people fined since measures were eased in England two weeks ago.
A total of 841 fixed penalty notices were handed out in England since restrictions were eased on 13 May.
Overall, 15,552 fines have been recorded by police forces in England since the lockdown began in March, according to provisional NPCC figures.
Some 1,395 were issued in Wales.
Among the main reasons for fines, the NPCC listed driving with non-household members, house parties, large gatherings and camping.
The data shows fines were more likely to be issued at weekends, with the NPCC highlighting the recent bank holidays and periods of warmer weather.
It comes as the latest UK-wide figures show another 324 people have died after testing positive for coronavirus in hospitals and the wider community, bringing the total to 38,161.
Some 131,458 people were tested for coronavirus on Thursday – with a further 2,095 positive cases reported.
The government has announced a further easing of lockdown restrictions from Monday, when groups of six people from different households will be able to meet outside in England.
They will be able to meet in gardens and parks as long as households keep two metres apart, but Downing Street said police do not have the power to enter gardens to check numbers.
Similar measures have been announced for Wales from Monday – although people from two households will be able to meet in groups of any size, so long as they stay local. In Scotland, two households can meet outside at a distance from Friday.
The NPCC said there were 1,019 fines issued in England during the latest two-week period – although the figure is likely to be revised upwards as more fines are reported – compared to 4,967 during the previous fortnight.
The highest number of fines issued in England – 178 – came on 12 May, the day before lockdown measures were eased.
Of the 43 regional police forces in England and Wales, London's Metropolitan Police has recorded the highest number of fines (1,035), followed by North Yorkshire (1,032), and Devon and Cornwall (906).
Warwickshire issued the least, with just 40 penalties handed out.
'Greater flexibility'
Martin Hewitt, the NPCC chairman, said: "As restrictions are carefully eased, the public have been able to go about their business in greater numbers, and with greater flexibility.
"The collective public effort over the past two months has meant police officers have only rarely had to step in to enforce regulations and even less so in the past few weeks."
He added that he was "confident" that the majority of the public would continue "to act responsibly" during the pandemic, and that the NPCC would issue guidance to officers on how to approach new changes to regulations in the coming days.
There are separate rules for managing the threat of coronavirus in England, Wales, Scotland and Northern Ireland.
The first fine someone could receive if police believed they were flouting restrictions in England rose from £60 to £100 on 13 May.
This will be lowered to £50 if paid within 14 days but fines will double for each repeat offence, up to a maximum of £3,200.
The fine imposed in Wales is £60, reduced to £30 if paid within two weeks. It can be doubled for each repeat offence up to a £960 maximum.
The rules in England were loosened earlier this month to allow a person to spend unlimited time outdoors for recreation or exercise as long as they do so alone, with members of their own household – or with one person from another household.
Social distancing of two metres still has to be observed, although police do not enforce this guidance because it has not been written into the law.