Claims that Johnny Depp was violent towards ex-wife Amber Heard are "complete lies", his lawyers have told the High Court.
The actor is suing the publisher of the Sun – News Group Newspapers (NGN) – and executive editor Dan Wootton, over an April 2018 article that referred to him as a "wife beater".
Mr Depp has strenuously denied that he was violent towards Ms Heard.
But NGN lawyers said the "wife beater" description was "entirely accurate".
Both Mr Depp and Ms Heard were in court in London on Tuesday morning.
In a written outline of the Hollywood star's case, his barrister, David Sherborne, said the article made "defamatory allegations of the utmost seriousness" against Mr Depp, accusing him of committing serious assaults on Ms Heard and "inflicting such serious injuries that she feared for her life".
Mr Sherborne said: "The articles amount to a full-scale attack on the claimant as a 'wife beater', guilty of the most horrendous physical abuse."
He added: "The claimant's position is clear – Ms Heard's allegations are complete lies.
"The claimant was not violent towards Ms Heard, it was she who was violent to him."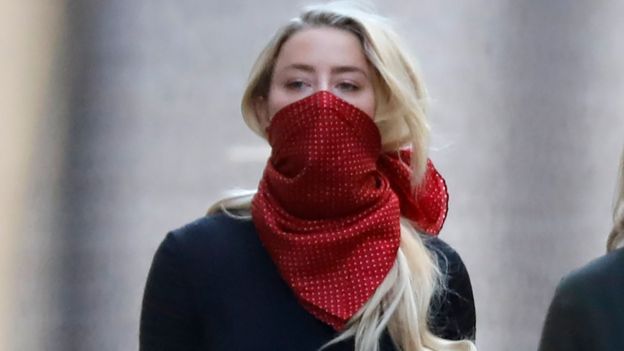 During a day of cross-examination by Sasha Wass QC, barrister for NGN, she argued there was a "nasty" side to Mr Depp's character.
She later suggested Mr Depp "regularly engaged in destructive and violent behaviour", which the actor denied.
The court was shown a video, recorded by Ms Heard without Mr Depp's knowledge, in which he was shown pacing around a room, swearing and kicking a cabinet.
Asked by Ms Wass if he would agree he was violent in the clip, Mr Depp replied: "I was violent with some cupboards."
He added: "Clearly, I wasn't in the best state of mind."
Mr Depp was also questioned about his use of drugs and said there had been "an internal fight in me in terms of alcohol and drugs and other numbing agents throughout my life, from the age of 11", when he first took one of his mother's "nerve pills".
As part of its defence, NGN alleges Mr Depp was "controlling and verbally and physically abusive towards Ms Heard, particularly when he was under the influence of alcohol and/or drugs".
In witness statements filed as part of the case, Mr Depp said he has never abused Ms Heard, or any other woman, in his life and alleged Ms Heard was "calculating", "sociopathic" and "a narcissist".
"I am now convinced that she came into my life to take from me anything worth taking, and then destroy what remained of it," he said.
Mr Depp said the pair sought the help of a marriage counsellor who he says confirmed to him that Ms Heard had a "borderline, toxic narcissistic personality disorder and is a sociopath".
In his witness statements he also accused Ms Heard of repeatedly punching him in the face and severing his finger by throwing a vodka bottle at him.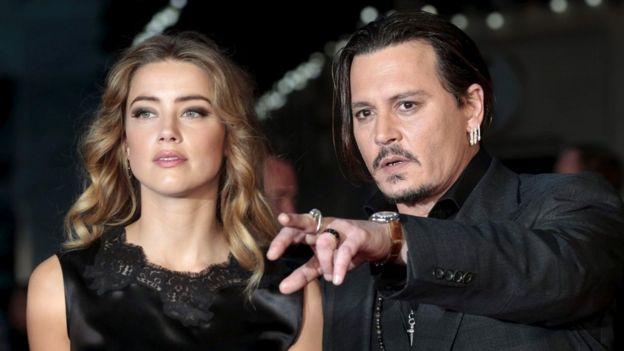 NGN previously tried to have the case thrown out, but Mr Justice Nicol ruled last week the case could go ahead.
The case arose out of the publication of an article on the Sun's website headlined: "Gone Potty: How can JK Rowling be 'genuinely happy' casting wife beater Johnny Depp in the new Fantastic Beasts film?"
The Sun's original article related to allegations made by the actress, who was married to the Pirates of the Caribbean star from 2015 to 2017.
Witnesses including Mr Depp's former partners Vanessa Paradis and Winona Ryder are expected to give evidence via video link, and the trial is expected to last for three weeks.
Mr Depp, 57, has been Oscar and Bafta-nominated and won a Golden Globe in 2008 for Sweeney Todd: The Demon Barber of Fleet Street. He married the Aquaman and The Danish Girl actress, now 34, in February 2015, but she filed for divorce after 15 months.